Workshop: Pen to Mat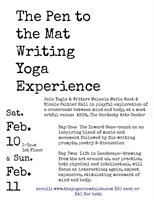 "Many a trip continues long after movement in time and space have ceased." — John Steinbeck
It's amazing what movement can do, especially mindful movement, the cultivation of awareness. Yoga has the power to unleash new levels of creativity — urging muscle and mind onto the page. Join yogis and writers, Melanie Merle Root and Nicole Peltier Hall, in playful exploration of the crossroads between mind and body, at a most artful venue: AHHA, the Hardesty Arts Center.
share, read, stretch, write, explore, contemplate, greet silence, embrace the creative impulse, breathe
LOCATION FOR THE YOGA WRITING CLASS IS AHHA Arts & Humanities at 101 East Archer St. Tulsa, Ok  74103
Saturday 10 February and Sunday 11 February from 1-3pm
Second Floor — Hardesty Arts Center
Day one — the inward gaze — count on an inspiring blend of music and movement followed by fun writing prompts, poetry, and discussion
Day two — life in landscape — drawing from the art all around us, our practice, both physical and intellectual, will focus on interaction; again, expect expansive, stimulating movement of mind and body
We so look forward to guiding this unique experience, and all are welcome, wherever you may be in your yoga and writing practices. Please bring a yoga mat, journal and writing utensils, and water.
The workshop is $25 for a single session, or enjoy both days for $40.