In Person - Restorative Yoga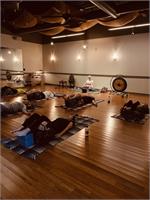 The most gentle class on the schedule.
Profound healing and insights happen without any sweat, supported by soft blankets and a soothing voice. This class is for everyone.
This slower yoga uses your awareness along with the precision of alignment and leverage in poses with breath sequenced compassionately to experience the therapeutic power of multidimensional openings.
This means you get it all!
This full-spectrum yoga decompresses your spine so your body moves more freely with less discomfort. This decompression uses your body to work with your mind, clearing away the thoughts and emotions that cause your stress and tension. Also, the decompression of your spine frees your innermost current of energy, so that it flows unimpeded from tail to top.
Rebecca Ward is 900-hr certified to lead your body, mind and stress level into deep relaxation. Be prepared to relax, Svaroopa style. Svaroopa Yoga specializes in "core opening", spinal decompression, through releasing the tensions in the layers of muscles wrapped around your spine. Svaroopa yoga has a healing effect on all levels of your being: body, mind and more. Lots of props are nice to have to support the body. Blankets and blocks are used to meet your body where it is and get maximum results in minimum time. Svaroopa is body friendly-yoga that anyone can do, regardless of experience or fitness level.