In Person - Flow & Stretch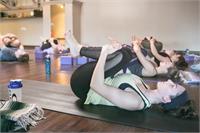 This mixed-level class offers something for most people, and is perfect for the student that likes variety in their practice! Each class begins with centering and breath awareness, followed by a mindful flow. 
Our Flow & Stretch classes can range from a soft & gentle, to a more strength-based power-esque flow, depending on the instructor!
You might have some that incorporate strength conditioning, followed by deep stretching to release stress.
Don't worry if you are not a "flow Yogi"; there will be plenty of modifications. More challenging options are offered as well. Classes are still suitable for newer students with no acute injuries.
Upcoming Classes
Wednesday Jan 12, 2022
Class
Price
Instructor
5:30 - 6:30 pm
In Person - Flow & Stretch
$15.00
Tiffany Tran
Thursday Jan 13, 2022
Class
Price
Instructor
12:00 - 1:00 pm
In Person - Flow & Stretch
$15.00
Lily Owens
Saturday Jan 15, 2022
Class
Price
Instructor
11:00 - 12:00 pm
In Person - Flow & Stretch
$15.00
Jill Krefft
Sunday Jan 16, 2022
Class
Price
Instructor
9:30 - 10:30 am
In Person - Flow & Stretch
$15.00
Lillian McLeod
11:00 - 12:00 pm
In Person - Flow & Stretch
$15.00
Dana McMurchy
Tuesday Jan 18, 2022
Class
Price
Instructor
8:00 - 9:00 am
In Person - Flow & Stretch
$15.00
Sue Webb
12:00 - 1:00 pm
In Person - Flow & Stretch
$15.00
Lily Owens
Wednesday Jan 19, 2022
Class
Price
Instructor
12:00 - 1:00 pm
In Person - Flow & Stretch
$15.00
Patrick Wilborn
5:30 - 6:30 pm
In Person - Flow & Stretch
$15.00
Tiffany Tran
Thursday Jan 20, 2022
Class
Price
Instructor
12:00 - 1:00 pm
In Person - Flow & Stretch
$15.00
Lily Owens
Saturday Jan 22, 2022
Class
Price
Instructor
11:00 - 12:00 pm
In Person - Flow & Stretch
$15.00
Jill Krefft
Sunday Jan 23, 2022
Class
Price
Instructor
9:30 - 10:30 am
In Person - Flow & Stretch
$15.00
Lillian McLeod
11:00 - 12:00 pm
In Person - Flow & Stretch
$15.00
Dana McMurchy
Tuesday Jan 25, 2022
Class
Price
Instructor
8:00 - 9:00 am
In Person - Flow & Stretch
$15.00
Sue Webb
12:00 - 1:00 pm
In Person - Flow & Stretch
$15.00
Lily Owens
Wednesday Jan 26, 2022
Class
Price
Instructor
12:00 - 1:00 pm
In Person - Flow & Stretch
$15.00
Patrick Wilborn
5:30 - 6:30 pm
In Person - Flow & Stretch
$15.00
Tiffany Tran
Thursday Jan 27, 2022
Class
Price
Instructor
12:00 - 1:00 pm
In Person - Flow & Stretch
$15.00
Lily Owens
Saturday Jan 29, 2022
Class
Price
Instructor
11:00 - 12:00 pm
In Person - Flow & Stretch
$15.00
Jill Krefft
Sunday Jan 30, 2022
Class
Price
Instructor
9:30 - 10:30 am
In Person - Flow & Stretch
$15.00
Lillian McLeod
11:00 - 12:00 pm
In Person - Flow & Stretch
$15.00
Dana McMurchy
Tuesday Feb 1, 2022
Class
Price
Instructor
8:00 - 9:00 am
In Person - Flow & Stretch
$15.00
Sue Webb
12:00 - 1:00 pm
In Person - Flow & Stretch
$15.00
Lily Owens
Wednesday Feb 2, 2022
Class
Price
Instructor
12:00 - 1:00 pm
In Person - Flow & Stretch
$15.00
Patrick Wilborn