Workshop: An Evening of Relaxation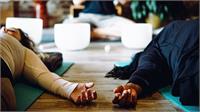 After spending the last decade as a massage therapist, acupuncturist, and yoga instructor, Zachary Avery developed the desire to work with people rather than on them. As a result, Zachary created his signature workshop "An Evening of Relaxation." This virtual experience lasts an hour and a half and will include guided breath work, meditation, restorative yoga, aromatherapy, and sound therapy. During this event, Zachary will offer his services to help you relax and recharge in the comfort of your own home. In addition, he will teach you tools and techniques to help reduce stress and anxiety in your daily life.
Registrants will receive an e-mail prior to the workshop that will include a link to the Zoom meeting as well as an accompanying PDF handout and Spotify playlist. Optional but recommended items to use during this workshop include pillows, blankets, candles, incense, essential oils, and an eye pillow.