Healthy Movement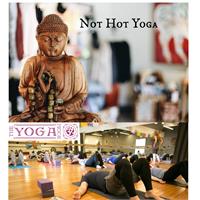 This class will instruct how to equally tone the fascia to better support the joints.   Ready to have freedom of movement and eliminate some of the pain associated with moving or sitting?  Holly reintroduces healthy walking patterns to enhance all activities and sports that your body wants to keep on enjoying. All are invited to learn the try this non-traditional body alignment technology and go HEALTHY into the body, heart and breath. 
More About Holly/Ren's Classes
The Bowspring is a postural template that can be applied universally to many yoga poses, athletic movements, and/or any functional posture for optimal performance. Designed for those wanting to strengthen as well as those with limited range of motion or pain, we will work at an appropriate level and pace as we explore movements and breath that bring strength, integrity and freedom to the body-mind. The experience of this class is to feel the body more in balance with both a challenging and invigorating while relaxing and restoring practice. Each student will be encouraged to cultivate a patient, compassionate approach to the practice while playing along the edge of their current boundaries, being respectful of any existing restrictions or pain patterns. The goal with this class is to offer a steady practice where old habitual patterns fall away, to be replaced with new ones that better serve us. The Bowspring alignment technology is accessible for people of all ages and fitness levels; this powerful postural template converts the most common daily positions of sitting and standing from heavy, static poses into light, dynamic positions full of the spring and fluidity of life.