In Person - Barre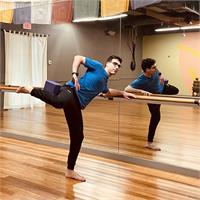 An introductory Barre* class for individuals who are beginners, intermediate, or advanced in Barre. This class is a positively energizing class synched with 130-135 bpm music combining yoga, pilates, and ballet-barre techniques. These techniques are focused on repetitive movements (with light weight or without) that fatigue and ultimately strengthen muscles, ligaments, and tendons throughout the whole body working on all movements of the joints. If you want to have fun, be in community, and experience a full-body workout, you have come to the right place!
*The class is within the form of True Power Barre (AFAA, NASM Approved). For more information on the format, visit the following link: https://www.truepowerbarre.rocks/
See Y'all At The Barre!