Prenatal Yoga - Restoring the Sanctuary of Birth
with Celeste McNeal Wood
Celeste weaves together an experiential preparation for the intensity of the birth process & uses science to encourage deepening the connection with your unborn child.
In this class you can expect to be challenged physically & engaged emotionally in ways that assist you in accessing your power and strength. The content is geared towards inspiring women to trust and reconnect with the body's brilliant ability to create and usher in new life.
This class is designed for women in all phases of pregnancy (including pre-conception and mamas with not yet crawling babies).
Celeste has a playful and intentional way of creating a container for insight, trust and excitement to bubble forth and infuse the remaining months of your pregnancy. Please reach out to Celeste directly with any questions: 918-914-4774
Stay afterwards for Healthy Refreshments & Community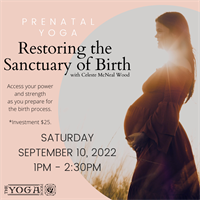 | | | |
| --- | --- | --- |
| Saturday, September 10 2022 | 1:00 - 2:30 pm | |
Join Lotus Lindley to take an experiential journey into the the sacred being that You Are.
There is a Soul presence that is birthed when we weave together:
Rhythm ~ Movement
Sound ~ Frequency
Meditation ~ Embodiment
This is the realm of the Sacred Feminine, regardless of gender or orientation ~ All are welcome! You'll be introduced to the Sacred Feminine brain. This is a part of us that connects us to our Heart-Womb/Hara-Soul. It expands our awareness into the field of of Divine Love, and brings harmony to the inner Sacred Masculine & Feminine.
Through a gentle guided and freestyle movement journey, you'll experience how deep rhythm can take you. It's a Soul-full Homecoming within. Infusing this sacred embodiment practice, you'll be receiving divine frequencies of higher states of consciousness, such as Joy, Grace, Peace, & Love, through the sounds & tones of Light Language. Meditation will enable embodiment and integration of your journey and the divine Light infusion.
Stepping into this space, we will weave a beautiful alchemy of Sacred Feminine Embodiment, that serves both the individual and collective healing & harmony!
Lotus' passion & purpose is guiding others along the journey of Sacred Embodiment. She embraces the teaching of begin within and guides others along their spiritual awakening experience, from that place. She has been supporting others in their return to Wholeness for 2 decades. She brings a joyful, grounded approach to magical realms which are beyond words!
lotuslindley.net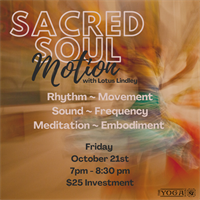 | | | |
| --- | --- | --- |
| Friday, October 21 2022 | 7:00 - 8:30 pm | |