Get ready to smell some teen spirit as we move, groove and flow with some of the killer sounds that came from the 90's.
We will be "Tripping Billies", "Walking in Memphis" and flowing with an "Even Flow" (Pearl Jam style). Don't worry if you are not savvy to the 90's, these tunes will rock your socks off. Also, if you are new-ish to yoga this will be your class! It is all levels and easily led.
But, make sure you bring your water and a sweat towel, this will be non-stop movement and you won't "want to come back down from this cloud". Get ready to rock, pop, move and have a blast!
After class, grab a Chai before you say goodbye!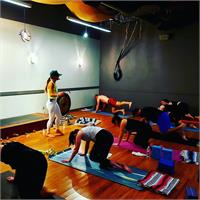 | | | |
| --- | --- | --- |
| Sunday, May 22 2022 | 11:00 - 12:30 pm | |
Rock'n Roll meets Hip Hop meets Yoga at this hour of fun, movement, tunes, sweat & power. Don't end your morning with out getting all the kinks of the week out, & adding in some flava flav. Have a blast, do yoga & get your sweaty music fix.
After class, get a free Massage from Vivian Arrington with Rise Again Bodyworks.
Don't forget to grab our homemade Chai before leaving!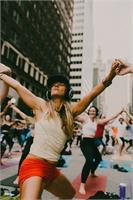 | | | |
| --- | --- | --- |
| Sunday, June 5 2022 | 11:00 - 12:30 pm | |
Joint Movement Workshop
with Rebecca Ward
Open all the joints, move all the bones & muscles in your body without strain or effort.
This workshop consists of slow, relaxed movements at the fullest range of motion for each joint, which can be very relaxing, very invigorating, or both altogether.
This Vinyasana moves every joint in the body in every possible direction, which can release trapped air, improve circulation, clear toxins and waste products from tissues, and improve vitality. All of this movement is to stimulate the healing process: physical, mental and emotional healing so you can be your best self.
Join Rebecca Ward (Svaroopa Yoga Teacher and Registered Nurse)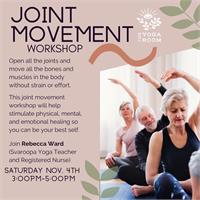 | | | |
| --- | --- | --- |
| Saturday, June 25 2022 | 3:00 - 5:15 pm | |