EFT (Emotional Freedom Techniques) for Inner Peace
with Mary NurrieStearns
EFT (Emotional Freedom Techniques) for Inner Peace
Give yourself and your emotional wellbeing a huge gift! Learn and practice a simple energy psychology protocol, based on acupressure for emotions, (evidenced based, substantiated by science) to lovingly take care of your inner life by reducing stress and increasing self - acceptance. EFT sounds simple, and it is, but only if you know what to do and then actually practice.
Discover for yourself how to tend to your emotions and thoughts, lower your stress and increase your
contentment.
Join Mary at The Yoga Room on Saturday Oct 1 from 1:00 to 3:00 pm.
Mary NurrieStearns, MSW, LCSW, C-IAYT, E-RYT 500, is a licensed clinical social worker with four decades of professional experience. She maintains an on-line counseling practice in Tulsa, Oklahoma with a specialty in treating adults with histories of childhood trauma. She has thirty years of training in mindfulness, is a certified trauma-informed yoga therapist, and has trained extensively in clinical applications of Emotional Freedom Techniques. Mary is author of numerous articles on psycho-spiritual growth, co-author of Yoga for Anxiety, Yoga for Emotional Trauma, Yoga Mind, Peaceful Mind and co-editor of Soulful Living. She is the author of the book, Healing Anxiety, Depression and Unworthiness: 78 Brain-changing Mindfulness and Yoga Practice (2018). Mary teaches seminars to mental health professionals across the USA and along with her husband, conducts retreats on the transformative, mind-body healing practices of yoga and meditation. She credits mindfulness-based practices for significant healing in her own life.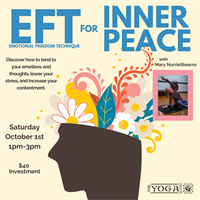 | | | |
| --- | --- | --- |
| Saturday, October 1 2022 | 1:00 - 3:00 pm | |
Join Lotus Lindley to take an experiential journey into the the sacred being that You Are.
There is a Soul presence that is birthed when we weave together:
Rhythm ~ Movement
Sound ~ Frequency
Meditation ~ Embodiment
This is the realm of the Sacred Feminine, regardless of gender or orientation ~ All are welcome! You'll be introduced to the Sacred Feminine brain. This is a part of us that connects us to our Heart-Womb/Hara-Soul. It expands our awareness into the field of of Divine Love, and brings harmony to the inner Sacred Masculine & Feminine.
Through a gentle guided and freestyle movement journey, you'll experience how deep rhythm can take you. It's a Soul-full Homecoming within. Infusing this sacred embodiment practice, you'll be receiving divine frequencies of higher states of consciousness, such as Joy, Grace, Peace, & Love, through the sounds & tones of Light Language. Meditation will enable embodiment and integration of your journey and the divine Light infusion.
Stepping into this space, we will weave a beautiful alchemy of Sacred Feminine Embodiment, that serves both the individual and collective healing & harmony!
Lotus' passion & purpose is guiding others along the journey of Sacred Embodiment. She embraces the teaching of begin within and guides others along their spiritual awakening experience, from that place. She has been supporting others in their return to Wholeness for 2 decades. She brings a joyful, grounded approach to magical realms which are beyond words!
lotuslindley.net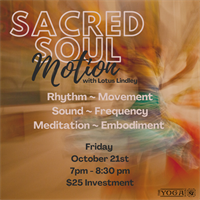 | | | |
| --- | --- | --- |
| Friday, October 21 2022 | 7:00 - 8:30 pm | |