Workshop: Your Inside Story - Enneagram Workshop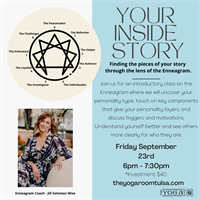 Your Inside Story
Finding the pieces of your story through the lens of the Enneagram.
Are you having trouble showing up in your everyday life?
Do you know the way you want to show up for yourself and others but often find yourself living on constant repeat asking yourself, why do I do that? Is there someone in your life you just want to communicate better with? Have you ever asked yourself why is it harder to get along with some people or even why is it hard for people to get along with me?
These are all questions the tool of the Enneagram can help you answer. Join us for an introductory class where we will uncover your personality type, touch on key components that give your personality layers, and discuss triggers and motivations. In understanding yourself better you can access grace that helps us all see one another in a divine light.
Jill Solomon Wise is a creative that has made a living studying people through various mediums of art. She's an interior designer, photographer and artist. An incessant seeker who fell in love with the Enneagram and in doing so fell in love with herself. Her 5 year journey lead her to become a certified enneagram coach.
Upcoming Classes
There are no classes for this week. Check back later for schedule changes.