Workshop: Yoga Nidra - Guided Meditation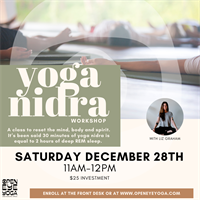 You're invited to incorporate Yoga Nidra into your life to increase Harmony & Balance.
This 6-Week series of Yoga Nidra Meditation, will offer insights, tools & the overview of Yoga Nidra Guided Meditation, to empower you in living from a clear, calm, center of balance & harmony.
Stress-related issues are a problem for most people.
Sleep, body pain, scattered thoughts, self-defeating mental/emotional patterns, behaviors, as well as over stimulation, are some of the most obvious.
We live in a world where our attention & energy is always being drawn outside of our being. This creates functioning from a deficit and depletion, in ways we recognize & in ways that we don't. One of the most empowering abilities, is to be able to harness our attention. This act enables us to move through life grounded, in harmony & balance.
Yoga Nidra is a guided, sleep-based meditation (but you don't actually go to sleep!)
It is a body-centered, energy sensitizing practice, which naturally quiets the mind, supporting the whole body to release stress & deeply relax.
No prior experience necessary.
*** The FIRST class is 2 hours. This sets the stage for the month. After that, the remainder 5 classes are 1 1/2 hour.
Please arrive a bit early to settle in, so we can begin on time***

CLASS PREPARATION:
~ Please wear loose & comfy clothing.
~ Bring a note pad & pen, yoga mat, a blanket, & pillow
~ YN is done laying down for the deepest relaxation… the hardest part is NOT to fall asleep!