Yoga Lab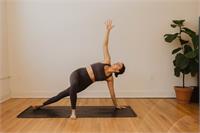 Yoga Lab is a workshop-style class designed to empower you to grow and deepen your yoga practice with expert tips and tricks. Classes begin with a seated meditation, end with Savasana, and feature lots of movement and stretching in between. You will feel your most vibrant self after attending this class!
Each month, a new theme will be introduced and practiced so you can monitor your progress over the course of the month. Possible class themes include:
Deconstructing the poses – How to properly get into various poses or families of poses properly. For example, the correct way to get into Chaturanga to avoid shoulder injury.
Working with the chakras – Working with your energy body to open, activate and balance its energy centers.
Improving strength and flexibility – Focusing on certain muscle groups, such as hip flexors or glutes, which lose strength as we age. Keeping these muscles strong is as important as stretching them.
Inversions 101 – Tips to get you comfortable going upside down.
Student input, questions, and curiosities will help inform upcoming class plans. The intention of this class is to provide a safe space where students can ask their most burning questions related to their personal practice.