Virtual - Hatha Yoga - Body & Mind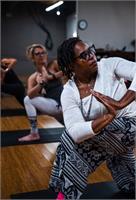 Hatha Yoga is a traditional, cultural and meditative yoga.
In this class, you will focus on the inhale, retention, and exhale of your breath.
You will deeply feel the stretch in the muscles of your body when you focus on your breath going in and out.
By combining the asanas with meditation, you will experience an equilibrium between your body and mind.
Hatha Yoga cleanses your mind from negativity and your body from impurities, helping you to be an optimistic and stable individual.