Workshop: Transform Your Life by Clearing Out Mental Clutter!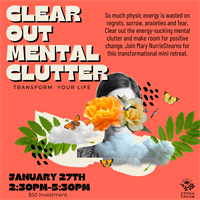 So much physic energy is wasted on regrets, sorrow, anxieties and fear. Clear out the energy-sucking mental clutter and make room for positive change. Join Rick and Mary NurrieStearns to nourish your capacity for more joy and love.

Move into inner stillness through chanting and Yoga Nidra. Release repetitive thoughts and make space for moving forward through simple mindfulness techniques. Take care of yourself with self-compassion.

Wear comfortable clothing, bring your journal and immerse yourself in transformative yoga practices. No prior yoga experience needed.
Upcoming Classes
There are no classes for this week. Check back later for schedule changes.