Workshop: Spring Equinox Musical Alchemy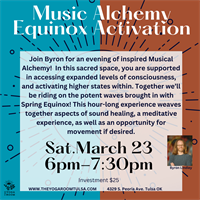 Join Byron Lindley and Lotus Lindley for a New Earth Celebration Circle. In this sacred space, you are supported in accessing expanded levels of consciousness, and activating higher dimensional states within.
As we call forth the energies of Spring together, we'll be journeying with the sounds and frequencies of Music as Medicine and Light Language. These modalities amplify frequencies of Rebirth, Renewal and Regeneration, Joy, Creativity, Celebration, Play, and weaving Love from the Sun & Earth union.
Our Sacred Circling supports all open hearts & readied Souls, join us in community as we co-create greater Light, Love, and Expansion for the highest good of all!
What can you expect? 
Your experience will be infused with:
- Multi-dimensional Sacred Space Activation
- Guided Meditation
- Divine Sound Alchemy/Sound Healing
- Light Language Activations
- Feel free to Meditate, Lay down to Receive, or Move to the Music
Byron Lindley is a musician and poet. As a musical alchemist, he channels higher dimensional frequencies through his music via guitar, didgeridoo, cajon and Light Language. This acts as a form of sound healing and "music as medicine." Byron has been on a path of spiritual evolution since a Kundalini Awakening in 2003. He is the author of A Portrait of Soul: Transformational Poetry, Spaces of the Sacred: Embodied Poetry, and The Fire in the Flame: Poetry for the Rising.
Lotus Lindley has been on the path of Awakening/Ascension since 1996, through a profound Kundalini awakening. As an intuitive healer, Soul & Sacred Embodiment guide, and through Light Language activations, she is a sacred vessel for divinely guided direct experience. She has been assisting clients privately & offering classes on the phases/stages of our spiritual evolution, through embodied wisdom, for 2 decades. Lotus is also the author of Awakening from the Dream ~ a Kundalini Memoir.To learn more: Art of Sacred Embodiment lotuslindley.net
Upcoming Classes
There are no classes for this week. Check back later for schedule changes.