Workshop: Sound Healing Ceremony: Pyramid Activation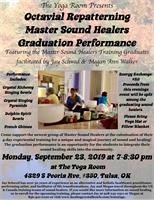 SPECIAL EVENT FEATURING OUR NEW CRYSTAL SINGING MERKABAS ACTIVATION FACILITATED BY MASTER SONIC ALCHEMISTS Jay Schwed and Megan Ann Walker with SPECIAL GUEST FACILITATORS ~ Cheri Asher and Kyle Jamar
Each group session is 1 ½ hours in length and each attendee receives a personalized treatment. As you lay in the living mandala, pyramids are played all around you and then placed on your sacred body temple. After your individual session, you will continue to rest in this specially created space and continue to receive these very high vibrations. During this ceremony, the room, the walls, and all things are affected deeply by these high vibration pyramids. The pyramids and merkabas differ in size, rod thickness, and octave to assist in your Octavial Re-Patterning process.
Energy Exchange for this otherworldly event is $25 per person.
EXPANDED DESCRIPTION
In the ancient lands of Egypt, the pyramids represented a very high power, a very endeared and sacred symbol, a huge mystery, and so much more. At the ending of the Mayan calendar, these singing crystal pyramids were presented to me while performing in a pyramid healing center in Saint Alphonse De Granby, Quebec. These enchanting sounds represent a re-birthing of these ancient ways, vibrations, and energies. Combining these sacred ancient energies with the energy of the crystal quartz creates a new high vibrational energy that assists in attuning each person to the higher frequencies of the universe.
During this ceremony, we incorporate a wide variety of different crystal singing pyramids, placed on, around, and played over each recipient. They are tapped, spun, and dance gloriously. As the pyramids sing their ancient song to us they create 8 vortexes of energy that begin to release old mental, emotional, physical, and spiritual blockages leading into an enlightened state.
We carry a wide variety of these pyramids, from 1"-14.5" 99.999% pure crystal pyramids for each attendee to purchase and bring home with them to maintain this new vibration that they have experienced. These pyramids were modeled after the original pyramids and even resonate powerfully when not singing.
Facilitated by Master Sonic Alchemists Jay Schwed and Megan Ann Walker with Master Sound Healers Cheri Asher and Kyle Jamar.
For more information about the pyramid ceremony or our upcoming Sound Healers Trainings in Tulsa, OK at The Yoga Room, call or text Jay at 928-241-0311 or Megan at 856-421-0120 or visit our website: www.healingcrystalbowls.com/upcoming-trainings