Workshop: Rooftop Yoga w/ D.J Matt Leland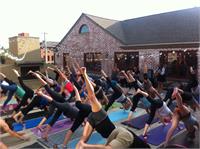 You asked for it, you got it! Bringing back the Live Music Rooftop gig on a Thursday, but there is only one! So, don't miss this special night on Cherry St. with D.J Matt Leland leading the tunes and Nicole leading the moves. All levels are invited to join, please bring a mat. This was our biggest turnout of past seasons and def the most fun. $15 enroll online. or cash at the door.
Upcoming Classes
There are no classes for this week. Check back later for schedule changes.