Workshop: Restorative & Massage Workshop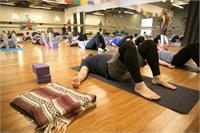 Lead by Beverly Vaughn and Ashley Ramsey. Enjoy and relax is the theme of this class. First we stretch and have an introduction to Thai inspired bodywork. This practice comes from a place of loving kindness. You will give and receive led bodywork. Wear comfortable clothing and bring socks if your feet get cold. Everyone will have a white sage savasana at end the class. Bring a friend or partner. All levels, even brand newbies are welcome to drop in and open up. 
Upcoming Classes
There are no classes for this week. Check back later for schedule changes.