Raven Yoga for Freedom-In Person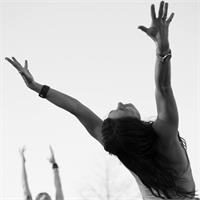 Raven Yoga for Freedom is set in a typical yoga class fashion. Students lay their mats down and face instructor. The postures are simple and are only to inspire insight into old belief systems and patterns of thought. There are basic postures and plenty of rest, no sharing or therapy.  The idea is for the student to start to imagine achieving freedom from whatever is holding them back.  Whether you are sober, wanna be or just curious this class is for you.  This class is for anyone wanting to step up and out of old habit patterns that are not serving their highest good.
Do you appear to have it all together but feel fragmented inside? Does your life on the outside not match how you feel on the inside? Does something need to change before you can really feel free? The Raven is symbolic of mind, thought, and wisdom. Many birds are seen as messengers between heaven and earth, and the raven totem no exception. Raven energy is said to bring meaning from a darker place, within. Maybe the pull to change is becoming too difficult to ignore. Change may be necessary for you in your life now, yet change is scary and often difficult. But, it is through overcoming obstacles and difficulties that we grow the most. Change is not just casting out the old self, but consume and incorporate those parts which give you strength. Learn from your mistakes, and the mistakes of others, and give new wings to thoughts and behaviors that were previously stopped from taking flight. If you feel like you are in a cage of your own design then Raven Yoga is for you. It's time to step out of the cage and take your wings to the air again. Show up for this all-levels yoga class focused on the truth around undesirable behaviors, habits & addictions. Beginner level yoga postures are explored related to the class theme, recovery, and healing. Through the body, shapes and breathing practice students have space to grow, heal, release unwanted patterns/habits and redirect energy into positive activities. No addiction, current recovery program or yoga experience required to attend this 'open to the public' class. Please be clean and sober when you attend class. Hangovers are ok. 
Click here for more information
Upcoming Classes
There are no classes for this week. Check back later for schedule changes.