ONLINE Mindfulness Gathering (FREE)-ONLINE ONLY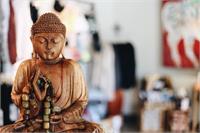 is a community group to bring like minded people together to build and provide community for each of us on our own respective journey's as well as our communal journey. We welcome people from all walks of life and welcome members of all faith, those with agnostic or atheist beliefs, and those just looking for an open minded, friendly, spiritual community to call home. This is a Zoom link, if you have any issues or do not receive the link, please contact Jon at [email protected]
This group is founded by Jon Hart and is inspired by similar gatherings across the country including the Austin chapter which you can check out here: http://wakeupaustin.wordpress.com/499-2/about-us/.
About Jon Hart: Jon Hart is an R.N., yoga and meditation teacher, husband of 26 years, father of 2, and devotee of Vietnamese Zen Buddhist monk, teacher, author Thích Nhất Hạnh. For Jon yoga has been a merging of three of the major paths of his life, i.e. spirituality, eastern energy systems and meditation. Over many years of religious study in the Christian tradition he came to the contemplative practice through reading Thomas Merton and eventually to Zen practice. Jon continues to bring the merging of Zen and Christianity to the mat.
Then the second major path, eastern energy systems, converged with yoga. Jon studied in a Tae Kwon-do and Kempo Ju-Jitsu martial arts system and spent years teaching and continuing to study. The healing component of those systems led Jon to the study of Tai Chi and subsequently to yoga, the "Ultimate Healing System".