Mindful Movement (Bowspring Method)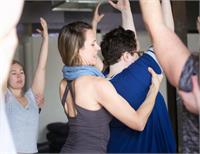 Start your day with Mindful Movement, work with 10 key areas in the body where misalignment and stagnation occur. Movement and breath work will address habitual stress and compression patterns. Benefits of the practice include pain relief, joint support, returned freedom of movement, improved athleticism, self regulation and sustained systemic health. Expect movement that is fluid, dynamic and functional. Working with the 10 key areas of the body in Mindful Movement will infuse lightness, self awareness, ease and FUN into all of your daily movement. Mindful Movement is based on Bowspring Mind Body Method as created by Desi Springer and John Friend.
www.globalbowspring.com for more information.