Workshop: Joint Movement Workshop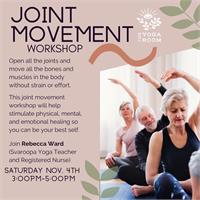 Open all the joints, move all the bones & muscles in your body without strain or effort.
This workshop consists of slow, relaxed movements at the fullest range of motion for each joint, which can be very relaxing, very invigorating, or both altogether.
This Vinyasana moves every joint in the body in every possible direction, which can release trapped air, improve circulation, clear toxins and waste products from tissues, and improve vitality. All of this movement is to stimulate the healing process: physical, mental and emotional healing so you can be your best self.
Join Rebecca Ward (Svaroopa Yoga Teacher and Registered Nurse)
Upcoming Classes
There are no classes for this week. Check back later for schedule changes.