In-Person Rock 'N Roll Yoga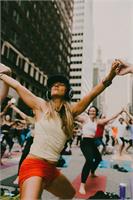 Rock'n Roll meets Hip Hop meets Yoga at this hour of fun, movement, tunes, sweat and power. Don't end the night with out getting all the kinks of the day out, and adding in some flava flav. Have a blast, do yoga and get your sweaty music fix. 
Upcoming Classes
There are no classes for this week. Check back later for schedule changes.