In Person - Kundalini Yoga (PARK YOGA)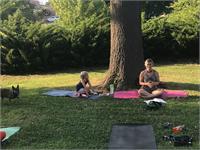 Come Join Us at Centennial Park!
MAP PIN DROP FOUND HERE: https://goo.gl/maps/ZTFgK37h9pmHGoEZA
DIRECTIONS: From the parking lot at 6th & Peoria, follow the loop path WEST, and just past the stairs, you will see Celeste under the big tree just past the big field.
Known as the Yoga of Awareness, this style incorporates breath, mudra and mantra for a unique experience; user friendly for ALL LEVELS. Especially designed with a focus on healing and energizing. In addition to the fast-acting benefits on the body's different systems, this class has intentions of bringing you into a centered experience of yourself.