In Person - Deep Healing Remedies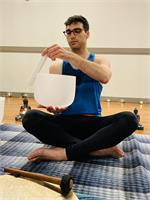 A class for everyone of all different personalities and experience levels who want to immerse themselves in a safe space of deep self-reflection, meditation, and natural healing. Deep Healing Remedies includes a basic skeletal structure with spaces for creativity, so each class experience is distinctive.
Basic Class Outline
1. Incense & Oils - use and functions of incense and essential oils for healing (will be used throughout class).
2. Tapping Routine & Intention - decreasing stress/anxiety and activating the physical body with one's own intention.
3. Asana Cycle - restorative and yin postures using a variety of props for aligning the body with deep breathing techniques.
4. Deep Relaxation - 15 minute guided meditation following with a sound bath.
Optional: Feel free to bring a personal eye mask and/or pen-paper/journal for noting down your experience (feelings, emotions, thoughts, imagery, and anything more).
Payton welcomes all with a safe, inclusive, and compassionate space. He looks forward to seeing you on the mat!