Equinox Yoga & Sound Healing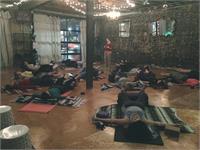 (Equinox class will be lead by Nicole. Sound healing by Kyle and Cheri. )Celeste will take your soul to the place your soul remembers and guide you to awaken the dormant energy lying at the base of your spine through deliberate breathing, postures and concentration.  Kundalini Yoga utilizes fast acting tools from an Ancient Science to harness an expanded experience of Self and reality.  All levels, pre/post pregnant and advanced Kundalini practitioners will all enjoy and benefit from this sacred, ancient practice. From the words of Yogi Bhajan due to the astrology of this information overload Age of Aquarius "We are involuntarily entering an age of voluntary enlightenment".
The last 15 minutes of this class is a sound bath with crystal bowls, chimes and the gong. 
Prenatal Welcome! Beginners Welcome, all welcome, really. This is a mellow version of a regular Kundalini class.