Workshop: Embodied Equinox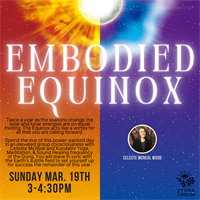 Embodied Equinox is a celebration of the transformational energies available. Twice a year as the seasons change the solar and lunar energies are on equal footing – there's a subtle balance in the cosmic realm – which is a super rare experience that acts like a vortex for all that you are calling forward.

The Equinox is also known as an energetic new year and is an excellent time to align with the Planet and use your practice to crystalize your intentions for the rest of the year.
Spend the eve of this power-packed day in an elevated group consciousness with Celeste McNeal and Kundalini Yoga, Meditation, & Sound Healing frequency of the Gong. You will leave in sync with the Earth's subtle field to set yourself up for success the remainder of this year.
Investment $22
Upcoming Classes
There are no classes for this week. Check back later for schedule changes.