Community Drum Class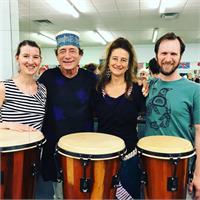 Join Justin and friends on the drums (no drum required to attend). Enjoy the rhythms & beats, vibes and grooves, listen, bang, dance and play. No yoga in this class unless you want to toss a mat down and move on your own.  Very welcoming community–come as you are. 
$10 cash drop in
Use your YR pass
$15 drop-in with credit card
Upcoming Classes
There are no classes for this week. Check back later for schedule changes.