Workshop: Chakra Day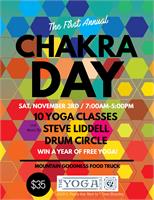 Celebrate ancient teachings, the power of the human spirit, and the mind-body connection! We are excited to present the First Annual Chakra Day! Experience 10 unique classes,  specialty workshops, live music for only $35! Want to bring your friend and save? Stop by The Yoga Room for a special price offering of 2 passes for $50! We will proudly be hosting Mountain Goodness food truck. Enter our raffle to win a year of yoga! 
Check our regular Saturday schedule for the indoor classes in studio. 
Outdoor 1:00p.m Live Yoga w/ Steve Liddell
             2:30-3:30p.m Yoga + Kombucha
             4:00p.m Drum Circle
Special Indoor Workshop with Dana McMurchy 
2-3:15p.m Chocolate, Crystals & Chakras
Special Indoor Workshop with Nicole, Jeff & Lori Love "Your Wings are Ready" Inside studio 3:30-5p.m.
$35 for whole day!
Upcoming Classes
There are no classes for this week. Check back later for schedule changes.