Chair Yoga -Beginner Friendly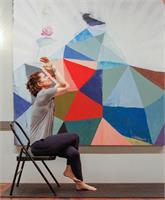 Chair yoga is a gentle form of yoga that is practiced sitting on a chair, or standing using a chair for support.  Frequently the chair yoga student is unable to participate in a traditional yoga class due to the effects of aging or disabilities. However, Chair yoga is a great practice for everyone, as it deepens flexibility and strengthens personal body awareness. Chair yoga classes are sometimes made available at senior fitness centers, retirement facilities, and adult daycare centers. Practice gentle yoga with the aid of a chair. Classes will consist of seated poses that focus on strength and flexibility, as well as some standing poses practiced with the aid of a chair for balance and support. We will also explore some breathing and relaxation techniques and end with a rejuvenating Savasana.
Many people in chair yoga classes have health issues, and many are there because a health care professional that knows about their problems recommended it. A good chair yoga teacher will ask about, and be aware of any limitations the student might have. Chair yoga has helped people with the symptoms of many health issues including: hypertension (high blood pressure), anxiety, chronic fatigue syndrome, arthritis, vertigo (medical), multiple sclerosis, Osteoporosis, Osteopenia, carpal tunnel syndrome, clinical depression, and chronic pain.
Chair Yoga is one of the gentlest forms of yoga available. Complicated maneuvers and complex movements are not present in a chair yoga class. Within this type of yoga class, you can cover standing, seated, and prone postures. Most of these classes use the chair only, due to the difficulty of getting down or up off the floor.