Breathe & Move Flow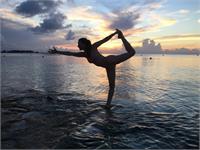 This all-levels class is a dynamic and flowing style of yoga which links breath and movement through a creative series of postures that balance strength and flexibility while cultivating mindfulness through a continuous flow. Dedicate an hour for yourself to breathe deeply and move intentionally to start your week.
This is not a fast class, but it can be physically demanding.
Please listen closely to your body and relax gently out of any pose at any time to avoid injury.