Workshop: Accessible Ashtanga Weekend Workshop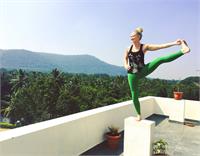 Fri 6:45-8:45– Let's talk about it: Overview of the History and Philosophy of Yoga
Sat 2-5- Accessible Ashtanga (Primary Series)
Sun 10:15-12:15 –Accessible Ashtanga (Intro to Intermediate)
Sun 4:15-6:15 – Living The Eight Limbs
$35 each session
$100 Early bird entire weekend- by May 15th
$125 entire weekend
**Teachers receive CEUs and extra $5 off ** 
LET'S TALK ABOUT IT: OVERVIEW OF HISTORY AND PHILOSOPHY OF YOGA:
Feeling Fuzzy about the details of all that Yoga entails? In this session, we will identify and clarify the main systems, leaders, and texts in the History and Philosophy of Yoga. Students will leave this session with a clear introductory understanding of what's what between The Vedas, The Yoga Sutras of Pantanjali, The Bhagavad Gita, The Upanishads, and The Hatha Yoga Pradipika.
ACCESSIBLE ASHTANGA: (PRIMARY SERIES)
The Ashtanga Yoga System is the basis for most types of popular yoga taught today. Practicing in the tradition of the Ashtanga Yoga System will help you to detoxify muscles and organs, improve circulation, and create a calm, steady mind.
In this Saturday session, you will learn to approach the Ashtanga Yoga System with light-heartedness and ease. Explore the power of putting your focus on breath and bandhas as we move through the poses of the Full Primary Series.
We will discuss modifications, adjustments, transitions, and advanced options; this is an all-levels workshop!
Beginner, intermediate, and advanced students are encouraged to attend.
ACCESSIBLE ASHTANGA: (INTRO TO INTERMEDIATE)
You must attend the Primary Series Session as a prerequisite to attend this Intermediate Series discussion. If you feel like you are an exception to this suggestion and would like to attend, please email us.
In this session we will discuss the idea and process of advancement in the Ashtanga Yoga System. We will do this through and examination of the traditions of the main Mysore Ashtanga yoga teachers and their methods of advancement, certification, and authorization.
LIVING THE EIGHT LIMBS:
In this session, we'll take some time to chat about all eight steps along the path of yoga. We will discuss living the Yamas and the Niyamas, the practices of Asana, Pranayama, Dharana, and Dhyana, and how it is believed that through continuous practice and dedication to these steps, you will reach unity with the Divine, or Samadhi.