Workshop: TOOL YOGA:46&TOOL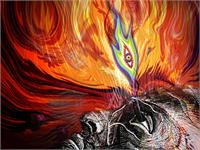 Maynard devotees unite! I know the pieces fit…Let's "connect" TOOL to Yoga. The poetry comes from the squaring off between and the circling is worth it. Finding Beauty. NO YOGA EXPERIENCE Necessary. Just a love and knowledge of TOOL. enroll online to save your spot. Laser Light show and Alex Gray images. You love TOOL, you must come. Price is $20, $2 if you need to rent a mat.
Laser lights flash to the beat of the music. It's loud and we know every word. The movements are merely a way to represent the passion, the pulsation, the surge that the human (who gets it) feels when this particular music is being played. More than listening . Moving. The yoga poses are simple and guided but there is liberty to add, subtract. It's open. But organized enough to participate at will.
You may get in the back. Take what you want leave the rest. But you will prob understand once you are "in" it. The yoga room, 34th Peoria. must enroll online to save your spot. Bring a mat or rent one.