Workshop: Mala Making Workshop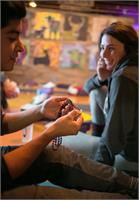 Mala-Making is the New Knitting! Come learn, chill, drink nice coffee from Cirque, do a little yoga, make your own mala beads to wear, share and do your chanting or meditations with. Have you noticed those beaded necklaces that yogis around the community like to wear? Ever wonder what their significance is, or what they're used for? Join Luis Tecocoatzi to learn about the art, use, and creation process of Malas. A mala is a tool used for meditation, and/or as a physical representation of an intention such as Peace, Love, or Forgiveness.
In this workshop you'll have the chance to learn more about malas in dept as well as create your very own. For this workshop we will more specifically be focusing on **Overhand Knotted Malas. To end of our time together; we will end with a cleansing and intention setting ritual.
Cost is $18 for instruction, +the cost of beads (select your beads from a wide range of kinds, styles, and qualities) Or bring your own beads.